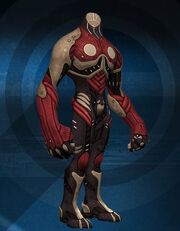 A 
Humanoid
is a type of enemy seen in Hulk's story.  It comes in Series K, N, and B variations.
To deflect attacks, always use either same direction or opposite direction of enemy's attack.  If sidestepping, try to time it for the last minute for a chance at a counter-punch.  If enemy uses a hooking punch, sidestep outside of swing.  In other words, if he throws a right hook, sidestep to your left.
Series B

Close-range attack patterns

Underhand scoop, overhead pummel, right uppercut (left body swipe)

UP, DN, UR, DL to deflect

right body swipe, left body swipe, right body swipe
right body swipe, left body swipe, underhand scoop, overhand pummel

DR, DL, UP, DN to deflect

Ranged attack patterns

Mile-long punch, head-butt, right body swipe, left hook, left jab

To counter: ??, ??, ??, DR, LT, block
To sidestep: Either side first two attacks.  Left, right, either.

Piano playing

To sidestep:  Either side for both attacks.

Helicopter slap

Excelsior block to stop it

Series K

Same as series B, but with more helicopter slaps

Series N

Close-range attack patterns
Ranged attack patterns
Ad blocker interference detected!
Wikia is a free-to-use site that makes money from advertising. We have a modified experience for viewers using ad blockers

Wikia is not accessible if you've made further modifications. Remove the custom ad blocker rule(s) and the page will load as expected.